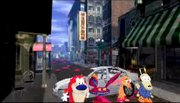 On this page you will find useful information on expansions and mods available in 3DMM.
There is a fairly limited number of expansions for 3DMM:
Expansion pack
Nickelodeon pack
Doraemon
Doraemon translation
Utilities include v3dmm (the mod manager) and 3DMM Animation Pro (keybinding app)
Expansions and utilities can be downloaded on this thread or on this page.
There are countless mods available for 3DMM. You will need v3dmm to use mods in 3DMM. These mods may be useful if you plan to export your video and upload it to a popular video sharing site. Otherwise, it's a real hassle to make sure you have all the required mods loaded and launch 3DMM from v3dmm just to watch it. Mods include characters, objects of all kinds (vehicles, props, scenes) and even fonts. Here are some of the top rated mods available:
Community content is available under
CC-BY-SA
unless otherwise noted.